Meet Our Company's Experienced Financial Expert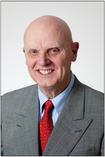 KBC & Associates provides a broad range of financial services to business owners. KBC&A is owned and operated by Kenneth B. Collins, with a network of professionals throughout the U.S. and Europe.
Kenneth B. Collins, Managing Partner​
Summary – Experienced investment banker and operating executive with domestic and international experience in digital and traditional media, healthcare, and manufacturing. Strong record of success in directly acquiring and selling businesses as an operator, and facilitating over 200 transactions as an investment banker. His principal focus is on improving operating performance, valuation, due diligence, deal structure, and financing.
Financial Experience
Oaklins DeSilva & Phillips, LLC – Founding Partner and CFO
As an active partner with ODP for over 20 years, Ken led more than 100 M&A transactions while also exercising oversight responsibility for more than 200 ODP transactions.
Ken is the Financial and Operations Principal (FINRA Series 27) of Oaklins, DP LLC. Securities Industry Registrations: Series 7, 63, 79, 99, and 27.
Operating Experience
Prior to cofounding ODP in 1996, Ken held a number of senior financial and line operating positions in manufacturing and publishing, including healthcare, legal and business services, and consumer and B2B publishing.
Key positions include:
Macmillan Publishing, Europe, President (Oxford, UK)
American Banker, Executive Vice President and Publisher
Investment Dealers' Digest, Executive Vice President and Publisher
John Wiley & Sons, Senior Vice President, Medical and Professional Publishing
CBS Inc., Vice President, Publisher, Fawcett Books
CBS Inc., Vice President, CFO, Publishing Group
Cooper Industries,President, Weller Electric Division
Cooper Industries, Vice President, CFO, Hardware Group
Education

M.B.A., Harvard Business School
B.A., Williams College
Professional Licenses & Affiliations

Former Secretary and Director, Copyright Clearance Center
Former Director, Association of American Publishers